AMIKO MINI HD265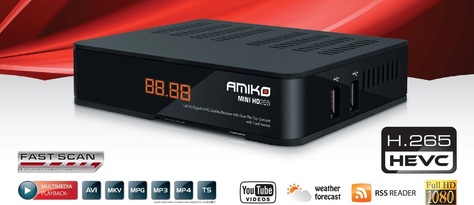 This is for pre-order only. Shipping will be the end of February. If you want one of these new receivers order now and be one of the first to get one. I will ship in order as pre-orders come in.
6000 channels (TV and Radio) programmable
Stream TV & Radio channels to your Android devices via local network! Click here for the App!
Two High Speed USB 2.0 Connections
Ethernet Connection & USB WiFi Support (Ralink RT5370 chip only)
YouTube videos
RSS Reader & Weather Forecast Functions (Ethernet or WiFi connection required)
DiSEqC 1.0, 1.1, 1.2 and USALS Compatible
Full HD (1080p) Output via HDMI
Channel Recording to External Storage Devices
Time-shift support
Channel Recording & Time-shifting Simultaneously (optional)
Channel switching time less than 1 second
True-color, User Friendly On-Screen Display (OSD)
Full Picture In Graphic (PIG) function
Electronic Program Guide (EPG) for on screen channel information
Subtitle supported
Parental lock facility by channel and program event
Program and Channel information transfer from receiver to receiver
Exciting games embedded
Multi-Language support
Power Consumption in Stand-By: <0.5W
Titanium Satellite Motor/Skew Controller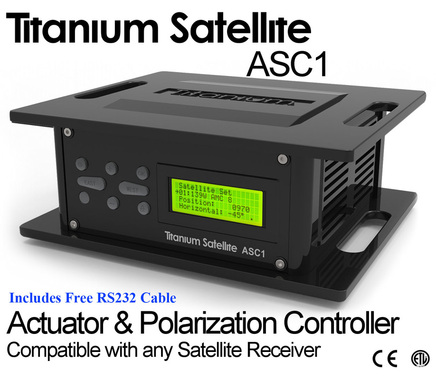 Titanium C1-PLL Phase Lock Loop C-Band LNBF with WiMax Filter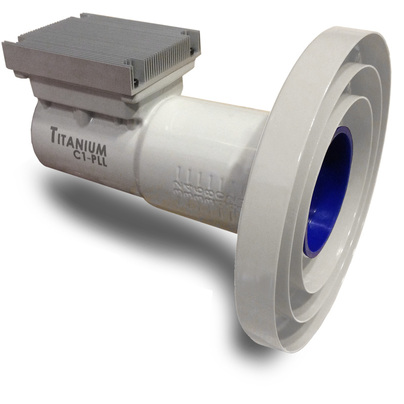 Phase Lock Loop LNBF for 3.7 - 4.2GHz with WiMax and Wide Area WiFi Filter

World's First and most advanced PLL LNBF for C-Band Operation. Countless Customers continue to tell me this is the best LNBF for C-Band they have ever had.
C1-PLL Specifications

Input Frequency Range 3.70 ~ 4.20GHz: Output Frequency Range 950 ~ 1450MHz L.O. Frequency 5150MHz: Noise Temperature 15K typical: LO Stability (over temp ex offset) ± 50Khz
Titanium C1W-PLL Wide Band PLL C-Band LNBF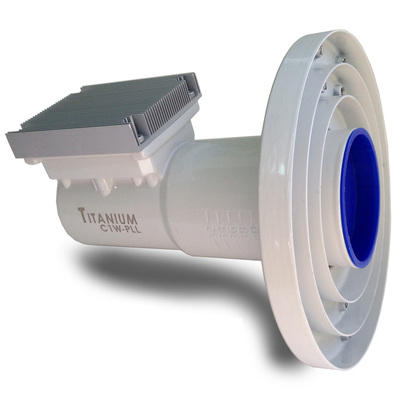 World's first PLL C-band Wideband LNBF
The Titanium Satellite C1W-PLL Wideband LNBF features the simplicity of voltage controlled polarity selection with exceptional performance and stability across the entire international wideband C-band range of 3.4 - 4.2GHz. The C1WPLL is perfect for reliable reception of S2, high FEC and narrow bandwidth satellite transponders.

Performance
This innovative single output model is developed using the latest PLL chipsets with a balance of gain, isolation, stability and amplification to produce a Phase Look Loop C-Band LNBF that outperforms all other C-Band LNBFs. All Titanium Satellite products are factory line tested multiple times to assure specification compliance and performance. In addition, all products are inspected by an independent third party service to insure complete manufacturing and performance compliance. Any product found not to meet our exacting "A" grade requirements is either reworked and certified to "A" grade performance or destroyed. Unlike competitors, there is no 2nd market for "B" grade Titanium products!


Maverick Satellite MK1-PLL KU Band PLL LNBF (Standard 10750 LO)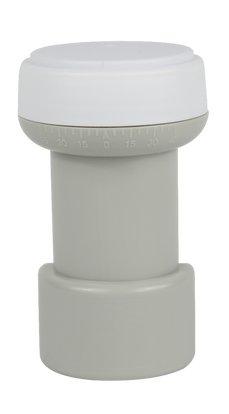 The best performing PLL Standard LNBF on the Market.
High Performance PLL Ku-Band LNB
HD - High Definition (DVB-S2) Compliant
Easy Installation (40mm)
Superb Non-Drift Performance
L.O. Accuracy & Stability Within +/-1.5MHz
100% Water Leak Proof
2 Year No BS Warranty Like The Others.

Click Here For Full Specs.
4X1 DiSEqC 2.0 Switch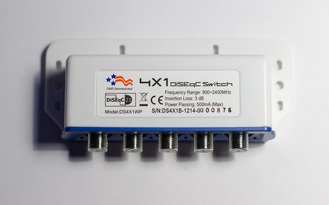 Connect up to four LNBFs (or dishes) to your receiver using our 4x1 DiSEqC switch.
This is a very high isolated DiSEqC 2.0 switch. Backward compatible with DiSEqC 1.0.
One of the
Highest Quality DiSEqC Switches on the market!
Click Here For Full Specs

Titanium CS1 Conical Scalar Kit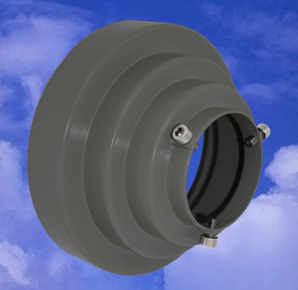 CS1 Conical Scalar Ring Kit
Perfect for Offset Dishes .5 - .8 FD

Want the ultimate performance from your satellite dish? Look no further! The CS1 is designed to optimize signal collection on offset dishes with a .5 - .8 Focal Distance. Mounts on any offset 90cm microBUD, 1.2m miniBUD, 1.8m, 2.4m, 3m or larger offset dish.
See my eBay store for more products.

---