SATHERO SH-200HD Satellite Finder/Meter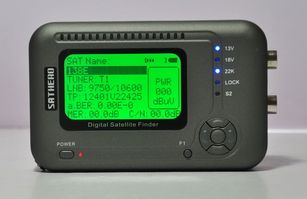 The Sathero SH-200HD
works anywhere in the world and is the lightest and most practical Digital Satellite TV Signal meter in the world. It is a professional satellite finder tool of cost effective design for the satellite TV installer or end user.
SH-200HD packs a lot of features in a very small box. Our first meter in the Sathero line to use our exclusive Fast Sweep Technology.
This meter gives you the maximum bang for the buck.


Note this is the Upgraded SH-200HD--This meter is not plagued with the DVB-S2 problem the original SH-200 had.

Specs

DVB S/S2
Fast Sweep Technology
Spectrum analyzer
Smallest and fastest digital signal meter
Demodulation QPSK, 8PSK, 16APSK, 32APSK
Compatible with DVB-S、DVB-S2、CBS MPEG-4 and ABS-S Signal
Automatically identify DVB S and S2 signals
Satellite name and longitude are listed simultaneously
22KHz switch automatically
Global satellite data preset
Satellite parameters editable
Display POWER、a.BER、MER and C/N value
High-resolution backlit LCD easy read
LCD backlight turns off automatically
Signal quality indication LEDs
Signal lock prompt audio tone
Mute feature to turn on/off beeping sound
13/18 volts indicating lights
Top F-81 is for LNB/F input
Bottom F-81 is for Loop Out

22KHz indicating light
Signal lock indicating light
LNB short-circuit protection
Upgrade software & parameters through USB2.0 Port
Wrist strap included
US AC power charger included
Removable battery design
High capacity LI-ION battery (1850mA), can last around 4 hours
Length x width x height 12.7 x 8 x 3.2 cm