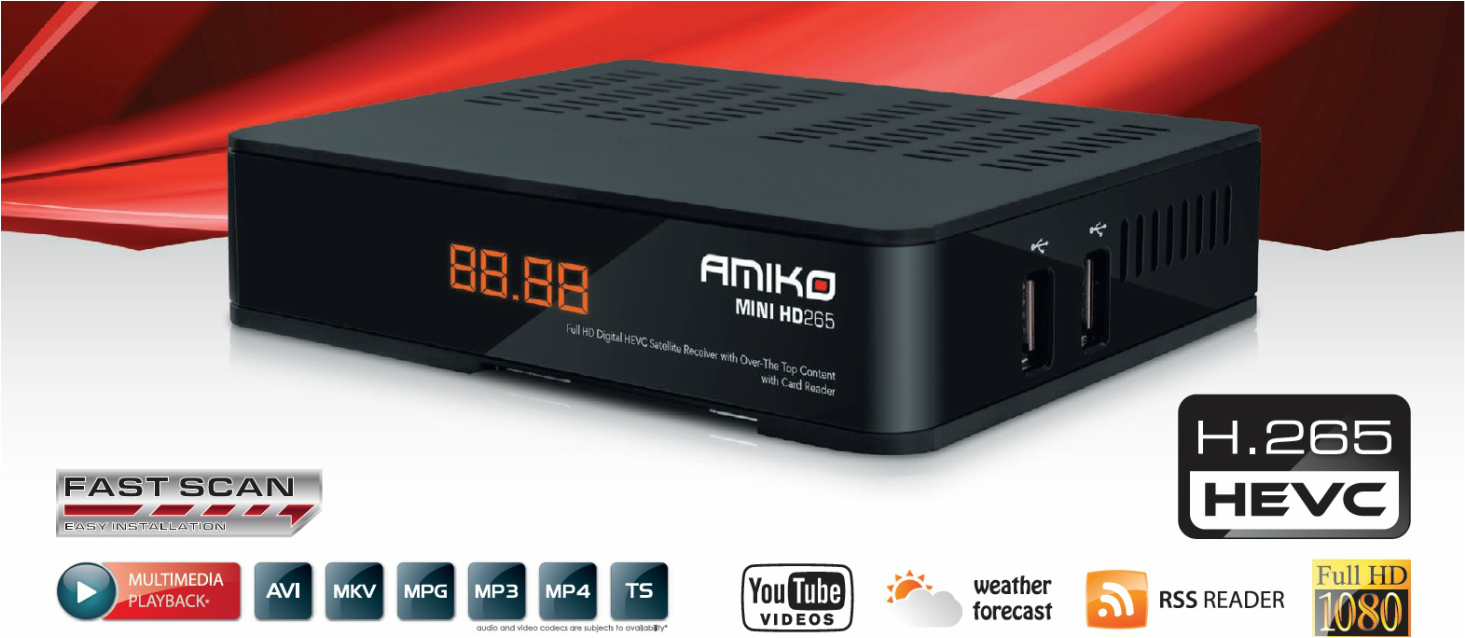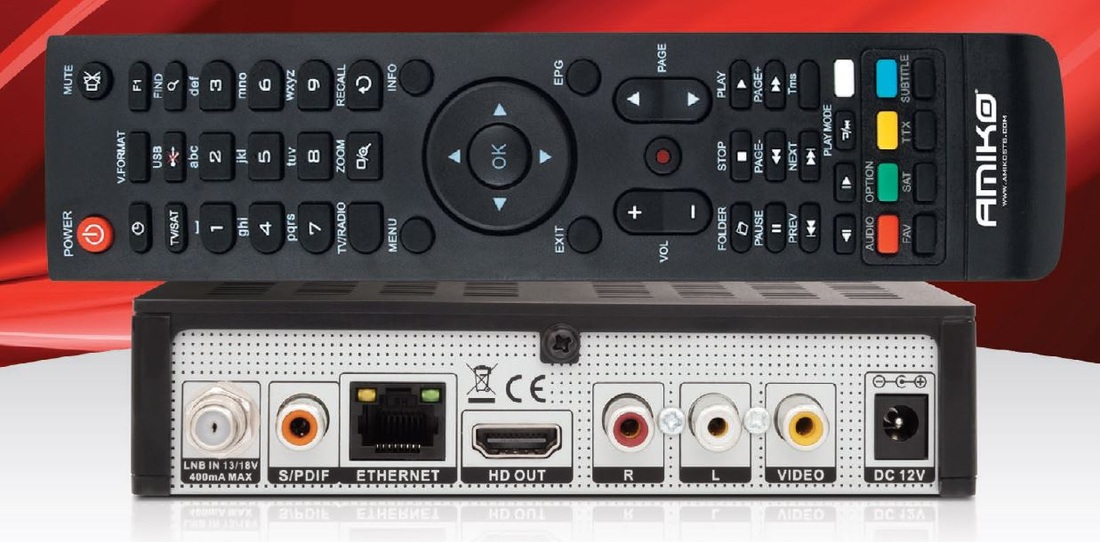 Scroll down for downloads

Tuner & Demodulation
Tuner Type: DVB-S / DVB-S2
Input Connector: F-type, Connector, Female
Signal Level: -65 to -25 dBm
LNB Power & Polarization: Vertical: +13V/+14V,
Horizontal: +18V/+19V
Current: Max. 400mA
Overload Protection
22KHz Tone Frequency: 22±1KHz
DiSEqC Control: Version 1.0, 1.1, 1.2, USALS
Demodulation: QPSK, 8PSK
Input Symbol Rate: 2-45 Mbps,
FEC: 1/2, 2/3, 3/4, 5/6, 7/8 and Auto

System Resources
Main Processor: 800MHz based CPU
Flash Memory: 16MB
DDR RAM: 256MB
MPEG TS A/V Decoding
Transport Stream: MPEG-2, H.264, H.265
Input Rate: Max.120Mbit/s
Aspect Radio: 4:3, 16:9, Letter Box
Video Decoding: MPEG-2, MP@ML, MPEG-4 part 10/H264
Video Resolution: 720*480P/I, 720*576P/I, 1280*720p, 1920*1080i, 1920*1080p
Audio Decoding: MPEG-1 layer I/II, MPEG-2 layer II, Dolby digital
Audio Mode: Left / Right / Stereo/ Mono
Sampling Rate: 32, 44.1 and 48KHz

Power Supply
Input Voltage: 12V DC
Power Consumption: 24W Max
Stand-By Power Consumption: <0.5W

A/V & Data Input/Output
AV Out: Jack to RCA (CVBS Video & Audio L/R output)
USB: Two USB 2.0 slots
S/PDIF: Optical
HDMI: VER1.3, Type A
Ethernet: 10/100M RJ45
RS232: Jack type

Physical Specifications
Size[W*H*D]: 144mm*40mm*110mm
Net Weight: 0.5KG
Operation Temperature: 0°C~+45°C
Storage Temperature: -10°C~+70°C
Storage Humidity: 5%~95% RH (Non-Condensing)
Firmware and instructions below

Download the below file, unzip it and place it on a USB flash drive. This does not have to be a blank flash drive.
Insert the flash drive into your receiver.
If you want to save your own personal channel list now is the time! Under Menu->System->Save to USB.
If you receiver is off, turn it on and let it boot up.
Once up and running bring up the MENU.
Then go to SYSTEM and then UPGRADE BY USB.
With your arrow keys move through until you see this file. It will be labeled same as below.
In upgrade mode select what you need. If you want to install just the Firmware select Software(No Channel List).
If you need just the channel list select that. If you need to do a full install select all plus boot-loader.
Go down to start and press OK. The receiver will upgrade and reboot and you will be ready to go.
If you do a full upgrade it WILL WIPE YOUR PERSONAL CHANNEL LIST.

The file directly below is for the MINI HD RE only!

New Firmware released 2017 for the Amiko MINI HD RE
2.4.19
This firmware adds the ability to add and delete satellites from the remote.
No need to use the channel editor for a simple add or delete!

Do this upgrade as a full install (All+Bootloader), just make sure to back-up before doing the update
or your channels and satellite list will be gone!!
Once installed and the receiver has rebooted go back in just like you are doing an update, find your backup
file under upgrade by USB and select channel list only, before hitting update. This will keep the new firmware
and restore your channels.
Make sure before you are done at this point to go to "Defaults" under the System Menu item and save as default.
This will make sure that if you ever have to do a factory reset, you receiver will return with this firmware.
Below is the .apk file to load onto your Android device to stream from your Amiko Mini HD RE. You must have go into your receiver menu and start the BIG2small app. Make sure your receiver is connected to your network. LAN cable is the best! Although some USB wireless dongles will work. Then start the below app up on your Android device. Note your Android device and your receiver must be on the same network.

Below is the channel editor for either the Mini HD SE or the Mini HD RE.

---
Below are files for the original MINI HD SE ONLY